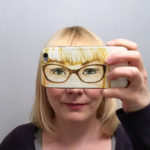 Tea Söderlund (s. 1976 Vantaa) valmistui taidemaalariksi vuonna 2001 ja on toiminut aktiivisesti kuvataiteilijana ja kulttuurin monityöläisenä.
Viimeisimpien näyttelyiden teemoina ovat olleet yksilön identiteetin, roolien ja normien kysymykset. Käsitteellisiä kokonaisuuksia muodostavat teokset syntyvät usein ajan kuluessa kertyneestä kierrätysmateriaalista, kuten sanomalehdistä, vanhoista leluista ja karkkipapereista. Materiaalivalinnat myös osaltaan johdattelevat käsitteelliseen tulkintaan, joka hahmottuu usein tuntemuksista ja ajatuksista, joita on vaikea nimetä tai pukea lauseisiin.
Tea Söderlund (b. 1976, in Vantaa) graduated as a painter in 2001, and she has been working actively as a visual artist and a multi-skilled actor in the field of culture.
The themes of her latest exhibitions have included issues relating to an individual's identity, roles and norms. Works that go to make up conceptual wholes are often built out of recycled materials, such as newspaper, old toys and sweetie wrappers. The choice of materials has also been a part of the content of the works, and they lead the spectator to make a conceptual interpretation formed through unspoken thoughts and unnamed feelings.